Have you ever dreamed about being a tie-fighter pilot and flying through the death star at breakneck speed while dodging obstacles? I found the closest real-life equivalent: Going through tuscany on a racing bicycle.
My favorite bike trips around Montevarchy
You can browse the above map full-screen on hajo.me/bike-tuscany. Download my KML tracks (made with the excellent TrailRunnerX app) from /bike-tuscany/routes.zip.
It's probably obvious that the green lines show my favorite street segments. Feel free to mix and match :) My two favorite downhill rides are colored in cyan. The red segment is a hill-to-hill ride where you can reach 76.5 km/h… yes, on a bicycle.
Stay safe: I drove the track ~10 times before in preparation and memorized every corner and road bump. The experience is definitely worth all that work :)
Your private Tie-Fighter piloting course ;)

The descent from Nusenna to Gaiole in Chianti has a heavy slope and it's a small road that wiggles down the mountain. While driving there, I noticed that the handles of my racing bike felt oddly similar to the fire trigger of my old Thrustmaster Joystick…
To reduce wind resistance, you usually bow down pretty flat which means you need to stick your neck up to still see what's in front of you. That means as soon as you "fire the brakes", your body's inertia will push you forward and you need to flex your biceps to stay where you are. That makes for a fun side-effect of braking, which reminds me of space-shooter video games for Xbox.
Combine that with driving through a curve-heavy path with 'obstacles' (normal tourists going 10km/h on their old-lady-bike) and the whole experience is as challenging and as much fun as I imagine flying through the death star with a tie fighter :) Both the view of the landscape from Castagnioli and the adrenaline rush of the descent are just amazing :)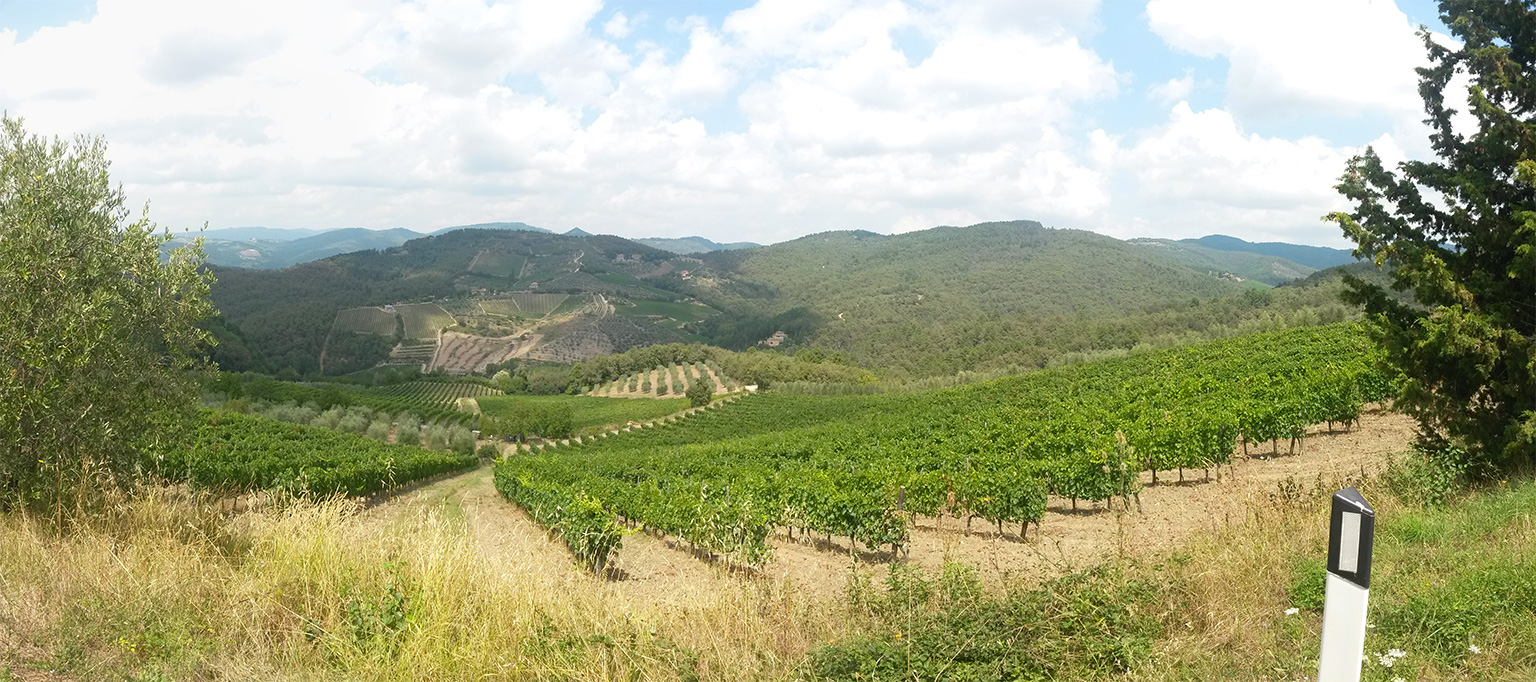 My other favorite track is to go from Cavriglia to Greve in Chianti almost in a straight line. This is an advanced route and you need to have the endurance to cross a mountain sideways ;) But on the other side, you're rewarded with an amazing descent and the beautiful town of Greve. From Montevarchi, this is a tough 40km trip to get there so you'll be hungry when you get there. As you might have guessed from the name, they have amazing Steak with wine sauce there… For the way back to Montevarchi there's a more or less flat countryside highway so once you reach Greve, you mastered the difficult part and can start relaxing :)
While I was more or less fighting my way uphill for the first few weeks, I was astonished at how fast you get used to cycling through the mountains. On my first day, I nearly fell from the bike after 15km and 250m ascend. On my last day, I went for 117km with a total height difference of 1833m. There's a special kind of peaceful feeling to the exhaustion that comes after a prolonged bike trip. While some of them didn't speak english, the local cyclists were welcoming and happy to race everyone to their limits :)
Water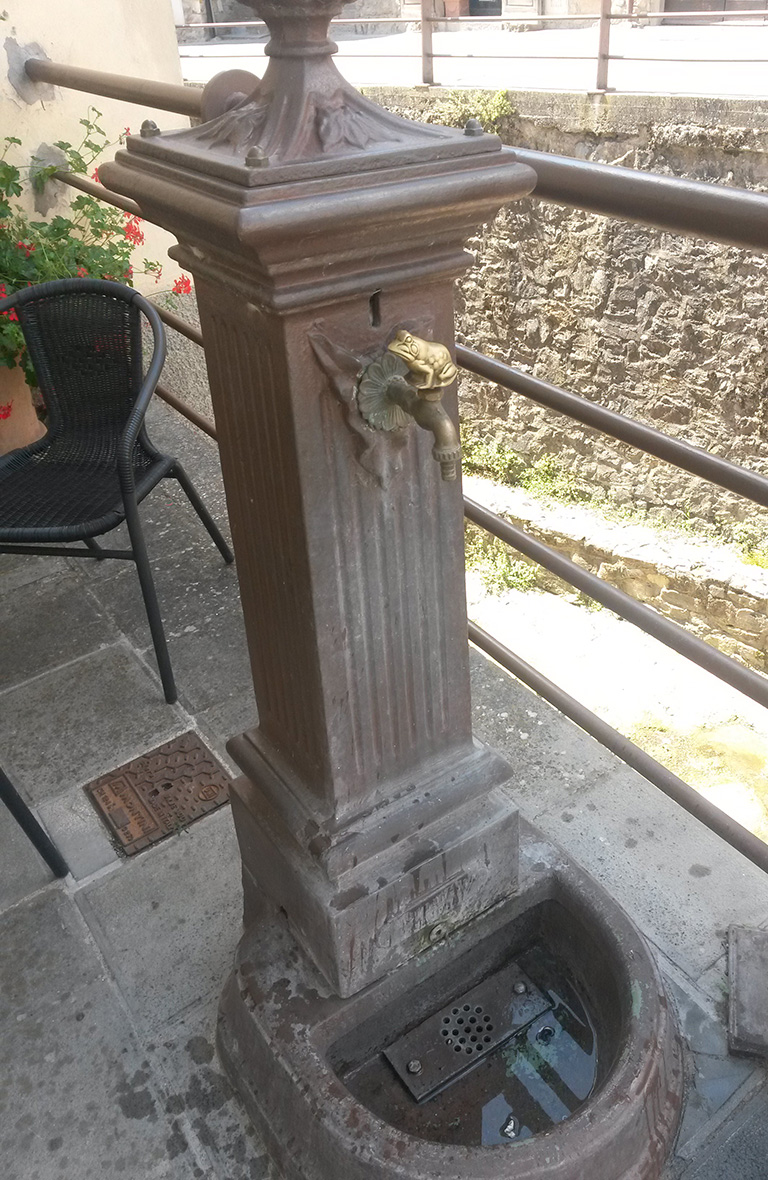 One thing I especially like about the Tuscany area is that every small town has a public fountain somewhere. These range from fancy aluminium-covered booths with LCD displays and sparkling water generators to renaissance designs like the one from Greve shown in the picture on the left.
Yes it's pretty warm in Tuscany and driving up and down the steep hills gets pretty tiring and makes you thirsty. But you never need to worry about water :) There's enough public fountains on every road you may choose.
Weather

The tuscany area is uniquely suitable for extended bike trips because from June to September you have next to no rainy days. During my stay for all of August, I had only one day where I decided to cut my trip short because of the weather. On most days, it did look just like on this picture: clear blue sky above lush mountains covered with olive trees and wine grapes.
Excellent Pizza and Steak
You probably know already that the Tuscany area is famous for its meat, olive oil and wine. Town names like Greve in Chianti also hint at the wine flavour that is local here. Practically every red or white wine you buy is DOCG or at least DOC certified. I mean you're living inside the DOCG area… Why import 2nd-class products?
The local meat speciality is from the Chianina cows. They have amazing steaks and if you combine them with red-wine sauce, it's practically a safe bet that the food will be amazing, no matter which restaurant. Some families that I met also produced their own olive oil :) And Elena and Luciana from my B&B in Montevarchi tought me to make my own italian-style Lasagna. Thanks to both of you :)
Since I stayed in Montevarchi for a full month and rarely cooked myself, I feel qualified to judge the local restaurants.
Bar Ristorante Da Giorgio…E Non Solo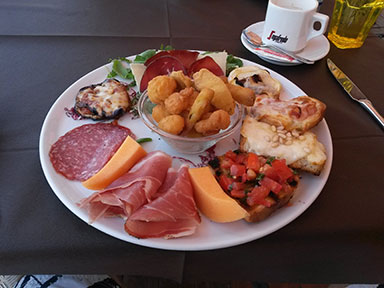 This restaurant has an amazing starters plate which you can see on the picture :) I went there several times just for this starters plate and it is in itself enough food for a full meal. After some of my longer trips (like Greve), I also went here to get the starters plate followed by boar meat. I highly recommend both of them.
On the downside, I heard from others that both the salad and the fish at Da Giorgio is bad. I wouldn't know since I dislike fish and salat in general ;) Also, the waiter seemed pretty confused and slow on some days.
La Buca Di Ipo
I wonder how I forgot to take a picture here, since this is by far the restaurent where I went most often. You need to get there pretty soon after they open at 19:00, otherwise you need to wait for ~1 hour to get a seat.
They make amazing italian-style pizza :) My favorite was Chiara Tutto Gusto. I ordered it so many times that I still remember the name 2 weeks afterwards…
Their mixed starters plate is huge and affordable and very tasty. It's similar to the one from Da Giorgio but with salty muffins and cheese instead of the fried vegetables.
They have a variety of amazing meat dishes. The overall concept is the same in that they stuff a steak with ham and/or cheese and cook the meat in red wine sauce. Tasty :)
I never heard any bad word about La Buca Di Ipo apart from locals complaining about the waiting time to get a table. This place is usually full on any day of the week… and rightfully so! This is also one of the more affordable restaurants in Montevarchi and as such many young couples go here for dates.
La Taverna degli Artisti
This place was recommended to me by locals for their excellent fish. Since I don't eat much fish, I ordered a meat main dish instead. The taste was weird and it was only a very small portion. So for meat dishes, stay away from this one. But please continue reading:
In the end, I went to this place many times because they offer excellent pizza like Buca Di Ipo at a similarly affordable price point. So when you've tried all the pizzas at Buca Di Ipo, you can continue your culinary exploration here :) What sets the Taverna degli Artisti apart is that they have their pizza oven in the middle of the sitting room. So you can actually watch the chef prepare, bake and decorate the pizzas while you wait.
Ristorante Braceria "La Vasca"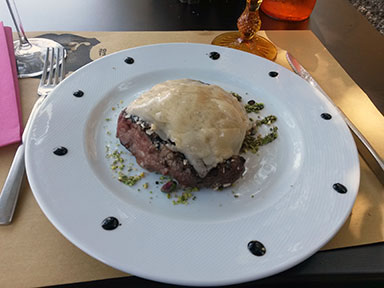 I went to La Vasca on the recommendation of several locals. La Vasca is widely known in Montevarchi for their excellent meat. On the picture you see their specialty beef filet with cheese cover.
One day, I went to La Vasca together with another bicyclist and we shared a 1.68kg Chianina Steak. La Vasca has excellent meat and a wide variety of meat types and preparations to choose from. In accordance with their high quality, La Vasca is also the most expensive restaurant on this list.
B&B La Cantonella
I went to Italy for all of August with the goal of creating my own cycling training camp. I chose to live in Montevarchi because it's located centrally in the Tuscany area and it is small enough so that I don't have to cope with city traffic before reaching the beautiful nature on my bike. I also dislike the artificial disconnect from the local culture that goes along with staying at a typical hotel as a traveller.
So I was searching for a casual place to live at for a full month. Of course I was very very skeptical when deciding, because committing to live at a place you don't know in a town you don't know for a month is a pretty high risk.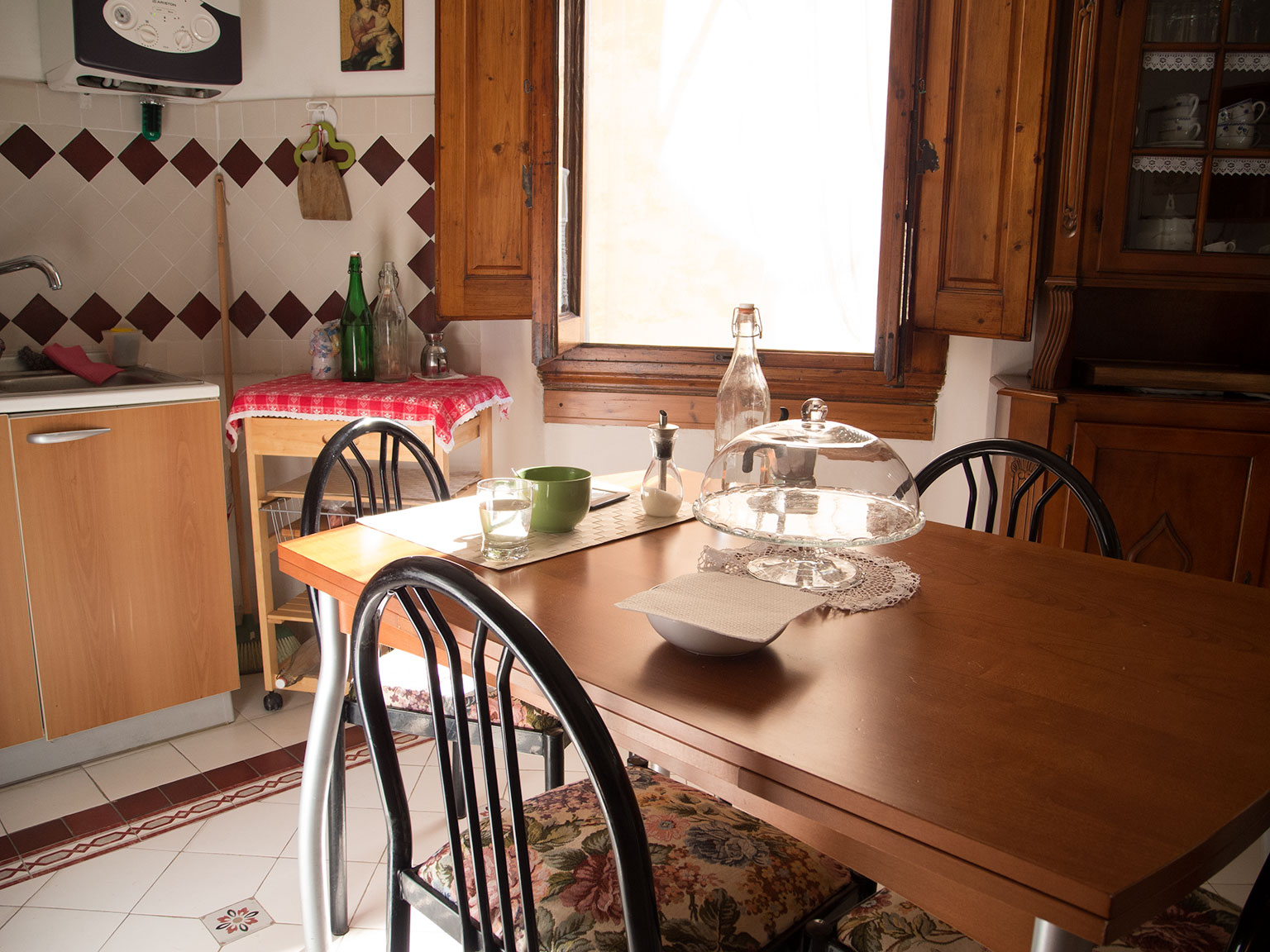 I found the B&B La Cantonella through AirBnB (https://www.airbnb.com/rooms/1391818) but since learned that it would have been even less expensive by booking directly through http://lacantonella.com/ . Apparently, AirBnB charges travellers around 15% in fees in exchange for the insurance they offer to hosts.
The place looked nice, but I was still unsure if it would be suitable for me to work at. Before booking, I asked them to run a speedtest on their internet connection. They have a pretty stable 7mbit line with low latency to Germany. Here's the measurements I took myself while there: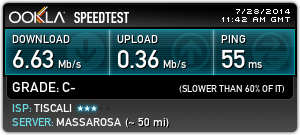 Even before I had booked, they were already very helpful and kind in helping me plan my bike rental. So I decided to take the risk and (without knowing them or their place) booked the B&B La Cantonella for a full month. In retrospect, I couldn't be happier :) Everyone of that I met of their family was cheerful and easy to get along with. When I arrived in Italy and told Elena that I like classical music, she helped me get a calendar of all the public concerts in the area :)
Throughout the month, Elena and Luciana would sometimes tell me about events that they heard about. It is thanks to them, that I was able to immerse myself in the local culture and seeing some of the coolest parts about mediterranean culture :) For example, they told me about the famous Siena horse race: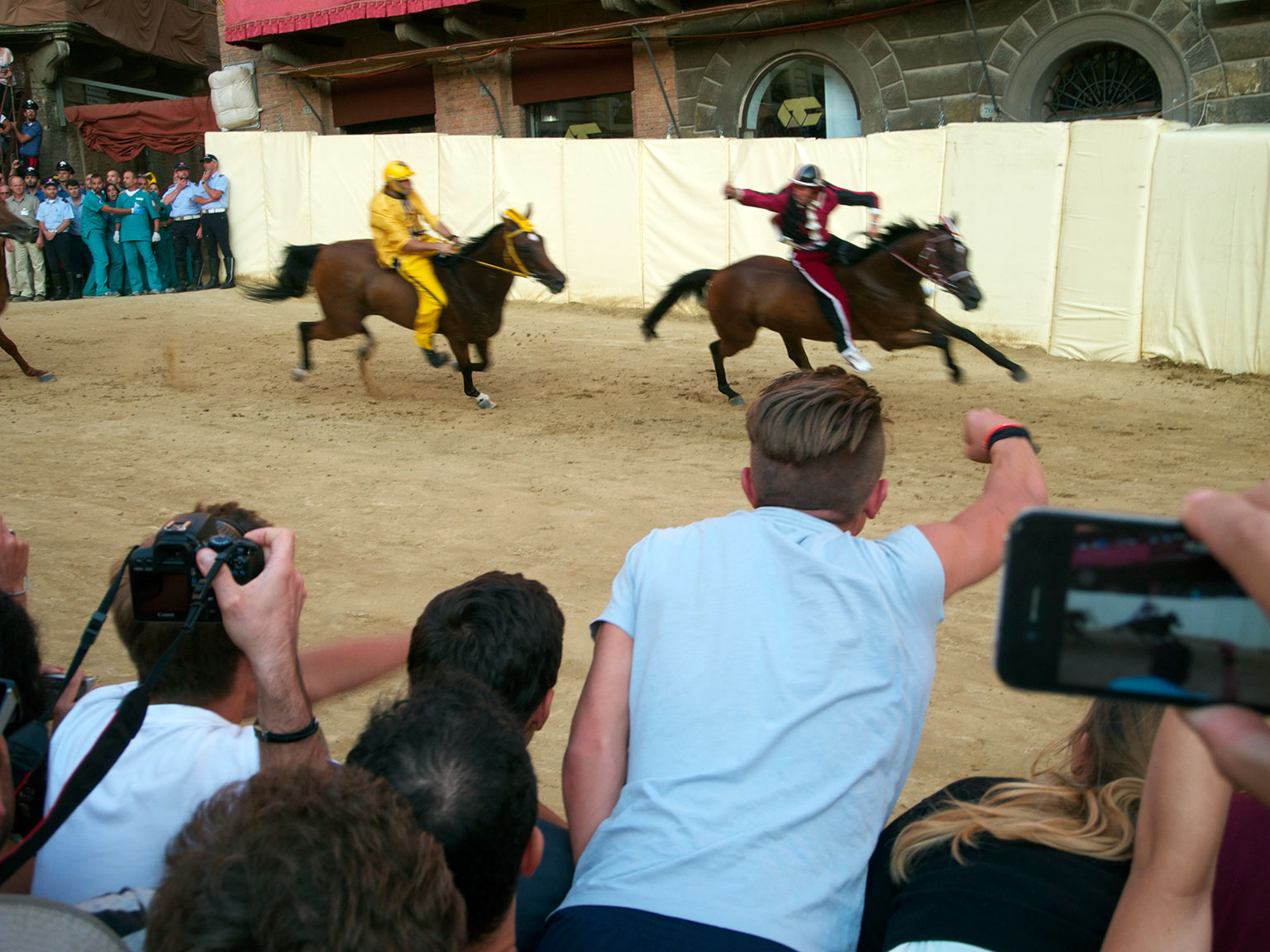 The red guy on the right won the race, by the way. And as you can see, Italians get very emotional and enthusiastic about this race. It's an amazing experience and I am lucky that I could sneak in and participate. Thank you again Luciana for explaining to me how to participate in the proceedings and get inside the "dogs stand" to have a good view of the race :)
The overall style of the B&B is comparable to a shared student apartment. I met interesting other travelers during shared breakfast or cooking in the B&B's kitchen (picture above). If you expect an all-inclusive five-star hotel experience, you'll be disappointed. But if you want a more personal experience, this is a great place. Throughout my stay I always tried to make as less work as possible for them because everyone was always so nice, charming and helpful.
Conclusion
Italy is awesome :)
Driving through one of the most diverse and beatiful mountain landscapes on the planet, eating awesome food, drinking wine with the guy that produced it, meeting cool people, listening to free concerts in a church…
My time in Italy was relaxing, fun and very productive work-wise. I'll be busy for a few months to finish up all the great projects I devised in Italy. And I'm now able to handle almost any hill in northern germany without breaking a sweat ^^ :)
I'm already looking forward to going back to Italy around April next year. And you can look forward to cool new technology which I invented in Italy :)